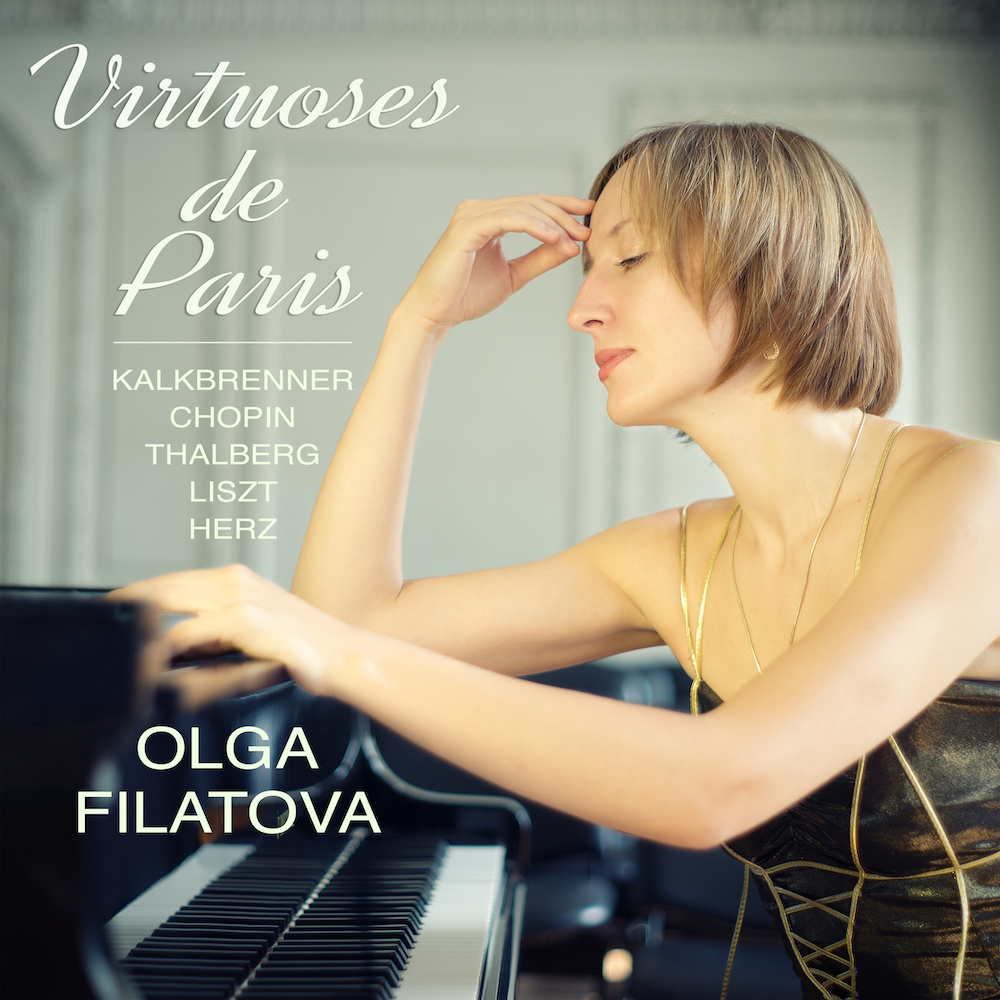 Virtuoses de Paris: Kalkbrenner, Chopin, Thalberg, Liszt, Herz
Track List
Friedrich Wilhelm Kalkbrenner: Variations Brillantes on a Mazurka of Chopin, Op.120

Frédéric Chopin: Andante spianato et Grande polonaise brillante, Op.22

Sigismond Thalberg: Grand Fantasia on 'God save the Queen' and 'Rule Britannia', Op.27

Franz Liszt: Tre Sonetti del Petrarca, S.270: Sonetto No. 104: "Pace Non Trovo" Agitato Assai – Adagio Franz Liszt: Mephisto Waltz No.1, S.514

Henri Herz: Variations Brillantes et Grande Fantaisie sur des Airs Nationaux Américaines, Op.158
Overview
Europe's cultural life of the 1830s was centered in Paris. The best writers, artists and musicians came there to live, compose, give concerts, teach, make acquaintances and get inspired. It was in Paris that the romantic piano art reached the peak of virtuosity.
Frederic Chopin, a provincial young man who arrived in the capital of virtuosos, wrote to a friend in his native Poland: "You will hardly believe how curious I was about Herz, Liszt, Hiller and so on, but they are worthless against Kalkbrenner. I should confess to you that I played like Herz, but I would love to play like Kalkbrenner. It is a giant who dwarfs Herz, Czerny and me, together with them". Friedrich Kalkbrenner was known in Paris as a fashion teacher, virtuoso, composer and co-owner of the Pleyel piano manufacturing firm. He used a mechanic device for teaching the proper hand position at the piano – a chiroplast – and wrote a manual how to apply it. Kalkbrenner helped Chopin arrange his debut concert and offered to take him as a pupil for three years.
Chopin was delighted to perform with Kalkbrenner in ensemble, but refused to take lessons from him. When Chopin gained popularity, Kalkbrenner, hurt as he was, had to admit his talent. However, he thought of a little revenge. Kalkbrenner composed "Variations Brillantes on a Mazurka of Chopin" where he did his best to show which of them two was the true virtuoso.
Chopin's first performances on the grand stages of Paris were held in traditional brilliant style. Among other concert works of the time he created "Grande Polonaise Brilliante" preceded by "Andante Spianato" for piano and orchestra. However, he preferred to play in salons for small groups of admirers and in the course of his lifetime gave not more than 30 public performances. Yet, he exerted a tremendous influence on Liszt who amazed the public with his boundless technical facility and demonic flair. The mystical ideas of Liszt who took holy orders in his old age found expression in "Mephisto Waltz" No. 1. Liszt was measured against Paganini only, and the two of them had no rivals until a new name was heard – Sigismond Thalberg.
Thalberg presented himself to Paris while Liszt was away composing his "Years of Pilgrimage" with "Sonetto del Petrarca No104" as its part. The new idol entranced the audience with his aristocratic composure, elegant appearance and incredibly refined technical mastery. In his frock, tightly done up, with diamond cuffs, Thalberg amazed the public by his outward calm. He could keep honing a challenging passage for hours, holding in his mouth a long Turkish pipe to keep a perfect posture. Thalberg made use of his own technical innovations creating the effect of a third hand which the public was desperate to see, and was noted for an unrivalled mastery of sound. He was the first piano virtuoso to fill concerts with his own compositions; and his fees were indescribably high. Thalberg's tour map covered Europe, England, Russia, South and North America. The house was full everywhere, arrangements of local popular melodies being included into the programme. It was from Thalberg that Liszt borrowed the idea of opera transcriptions.
Hearing of the new rival Liszt hurried back to Paris and published a controversial article denigrating Thalberg. At the same time he was studying away the Swiss pianist's compositions.
Thalberg came back to Paris in 1837 and in the first concert performed "Grand Fantasia" on "God save the Queen" and "Rule Britannia". Liszt replied with a concert of his own. Finally, the two virtuosi crossed swords in a historic concert that concluded with the famous verdict: "Thalberg is the first pianist in the world – Liszt is unique".
Thalberg, Liszt and Chopin were seen as grand masters unreachable for mortal beings. In contrast, the works of Henri Herz were sold like hot buns: his polkas, rondos, marches and variations were performed in all salons of Paris. The fashion virtuoso was three years old when he began playing a small pianoforte with a four-octave keyboard, constructed specially for him. The instrument grew bigger as the young pianist got older. At the age of nine he was to develop independence of the third and fourth fingers using a device with rings hooked on the ceiling and operated by servants. Liszt called Herz and Kalkbrenner "a brotherhood of piano acrobats", and Schumann wrote about Herz: "Does he care about anything else but entertaining and making money?" Herz did make a handsome fortune; he was also involved in piano manufacturing and built a concert hall with his money. In the little time that was left Herz took more pupils than he could manage.
Henri Herz made his debut in New York on October 29, 1846. It was for his American tour that he composed "Variations Brillantes et Grande Fantaisie sur des Airs Nationaux Américains". He was one of the first European professional musicians to get interested in Afro-American music. In memory of the trip Herz wrote a fascinating book "Mes Voyages en Amérique".
Copyright © 2012 Olga Filatova
Translation © 2012 Kseniya Kemova
Stream or Download
Select the option that suites you the best. Stream this album on your favorite music service or download your copy directly from label Oclassica.
Composers
Choose your favorite composer to see what albums we have.
Recommendations of classical music
Get music recommendations, special offers, release announcements by joining our newsletter