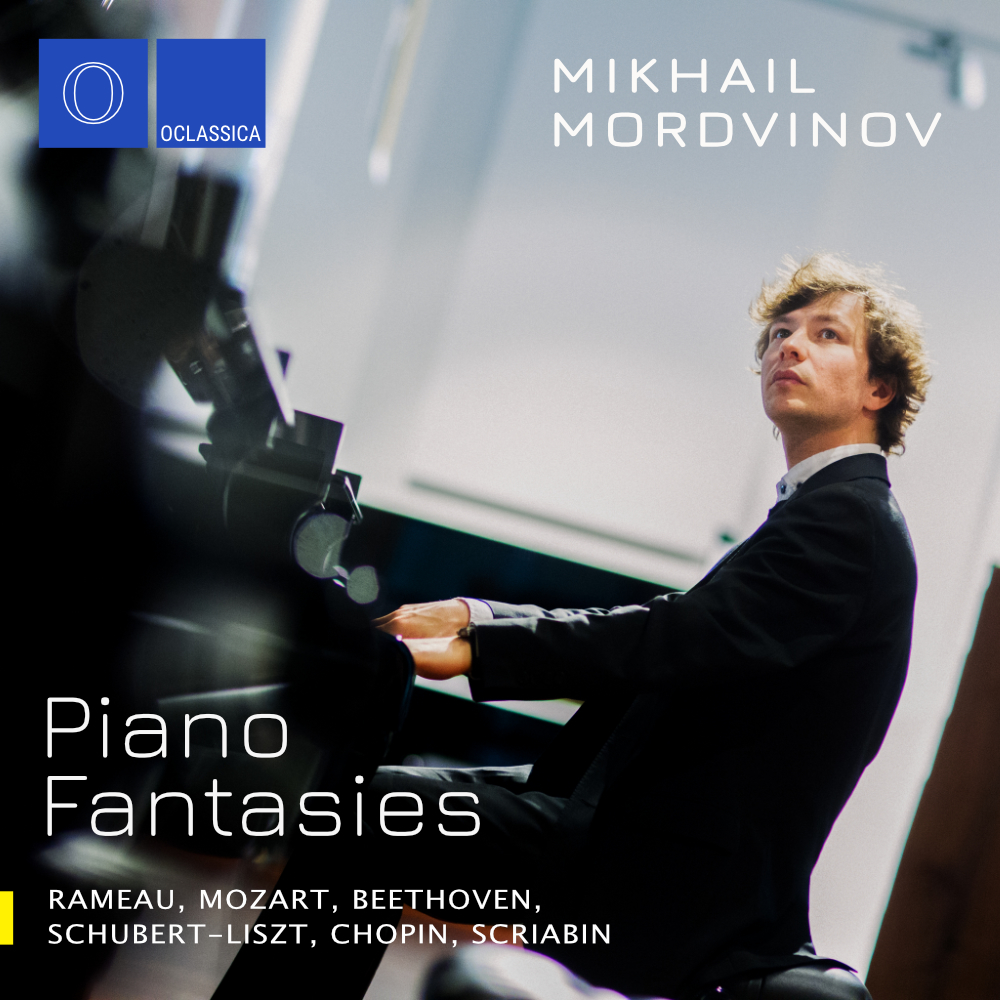 Piano Fantasies: Rameau, Mozart, Beethoven, Schubert/Liszt, Chopin, Scriabin
Track List
1. Jean-Philippe Rameau: Les Tendres Plaintes
2. Jean-Philippe Rameau: Les Tourbillons
3. Wolfgang Amadeus Mozart: Fantasia in D minor, KV 397
4. Ludwig van Beethoven: Sonata in D minor, Op. 31, No. 2: I. Largo. Allegro
5. Ludwig van Beethoven: Sonata in D minor, Op. 31, No. 2: II. Adagio
6. Ludwig van Beethoven: Sonata in D minor, Op. 31, No. 2: III. Allegretto
7. Franz Schubert – Franz Liszt: Frühlingsglaube
8. Franz Schubert – Franz Liszt :Die junge Nonne
9. Frédéric Chopin: Fantasia in F minor, Op. 49
10. Alexander Scriabin: Etude in C sharp minor, Op. 2 No. 1
11. Alexander Scriabin: 2 Poèmes, Op. 32
12. Alexander Scriabin: Poème "Vers la flamme", Op. 72
Overview
"… confident and clear playing with a differentiated touch and deep expression." Karl-Heinz Lobner (Freie Presse)
"His playing shows deliberate technical mastery which is his strongest quality. I was particularly touched by the tender, lyrical episodes which he played with expressive maturity." Zwickauer Tageblatt
"He shows amazing virtuosity as a pianist; and the audience reacted with a standing ovation." MLG (Westdeutsche Allgemeine Zeitung)
Mikhail Mordvinov was first propelled onto the international stage when he won the 12th Robert Schumann Competition in Zwickau (1996) and the 6th Schubert Competition in Dortmund (1997).
Mordvinov has since been invited to perform at some of the world's major classical music concert venues including the Konzerthaus Berlin, Philarmonie im Gasteig Munich, Minato Mirai Hall in Yokohama, the Great, Small and Rachmaninov Halls of the Moscow Conservatory, Moscow Tchaikovsky Concert Hall, Meistersingerhalle Nurnberg and the Kumho Art Center and Sejong Art Center in Seoul.
Make music yours again
Three easy steps
1. Buy album
Choose among available options: MP3, CD-qiality or Hi-Res format.
2. Download
Complete purchase and download audio files.
3. Listen & Enjoy
Upload files to your device and enjoy listenning.
Did not find the music you like? Try keywords describing emotion, instrument, movement or occasion
Recommendations of classical music
Get music recommendations, special offers, release announcements by joining our newsletter