Track list
Romance in E-Flat Major for Piano and Viola. Music composed by Sergey Bryukhno.
Originally composed in 2007 for piano, Romance in E-Flat Major was revised in 2018 with an addition of viola part. Sergey Bryukhno recorded this piece in studio performing on both piano and viola. "I remember that I talked on the phone. At the end of the conversation a friend on mine reminded me about the person whom I did not see for a long time and who was important to me. I hung up the phone, looked into the window where the sun was setting and the melody began to sound in my head. I rushed to the piano and completed the piece shortly. This is how it was composed," – Sergey Bryukhno.
℗ & © 2018 Sergey Bryukhno under exclusive license to Oclassica SIA.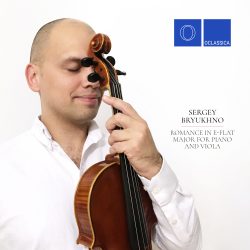 Start listening on