About Children's Album
In a letter of 30 April/12 May 1878 to Nadezhda von Meck, the composer wrote: "A while ago I thought that it would not be a bad idea to make a small contribution to the stock of children's musical literature, which is very modest. I want to create a series of little individual pieces just for children, and with an attractive title, like Schumann's".
Some months before this letter was written, while staying in Florence on 14/26 February, Tchaikovsky told Pyotr Jurgenson that he wanted "to write a number of easy pieces, like Kinderstück". Evidently, the idea of creating a collection of pieces for young people had not been abandoned by the composer, and after his return to Kamenka in April he decided to begin composition. In the aforementioned letter to Nadezhda von Meck, he informed her: "Tomorrow I shall start work on my collection of miniatures for children".
On 1/13 May the composer wrote to Anatoly Tchaikovsky: "I'm working well and have done rather a lot". On 4/16 May the sketches for all 24 pieces were ready. Shortly afterwards, Tchaikovsky accepted an invitation from Nadezhda von Meck to stay at her Brailov estate until the end of May/beginning of June, before spending a few days in Moscow; from there he went to spend five days with his friend Nikolay Kondratyev at Nizy, and in mid/late June he called at Kiev, before returning to Verbovka. In the days following his arrival, he began to put the finishing touches to all the pieces written in April and May. The fair copy of the Children's Albumwas begun, it seems, on 13/25 July.
By 20 July/1 August the copying out was completed, and on 21 July/2 August the composer told Nadezhda von Meck that he was working on the Liturgy of Saint John Chrysostom. Source: Tchaikovsky Research
Tracklist
I. Morning Prayer
II. A Winter Morning
III. Little Mother
IV. The Hobby Horse
V. March of the Wooden Soldiers
VI. The Sick Doll
VII. The Dolly's Funeral
VIII. Waltz
IX. The New Doll
X. Mazurka
XI. Russian Song
XII. The Peasant plays his Harmonica
XIII. Folksong
XIV. Polka
XV. Italian Song
XVI. Old French Melody
XVII. German Song
XVIII. Neapolitan Song
XIX. The Old Nurse's Tale
XX. The Witch (Baba-Yaga)
XXI. Sweet Dreams
XXII. Song Of The Lark
XXIII. The Organ Grinder
XXIV. In The Church
℗ & © 2018 Oclassica SIA.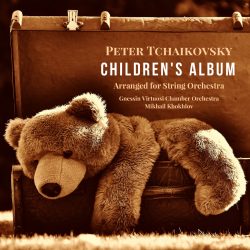 Start listening on