Track List
Antonio Vivaldi: Concerto for Lute and Strings in D Major, P.209, F XII, 15: I. Allegro (Arranged for Guitar and Bayan)
Antonio Vivaldi: Concerto for Lute and Strings in D Major, P.209, F XII, 15: II. Largo (Arranged for Guitar and Bayan)
Antonio Vivaldi:Concerto for Lute and Strings in D Major, P.209, F XII, 15: III. Allegro (Arranged for Guitar and Bayan)
Joaquín Rodrigo: Fantasia Para un Gentilhombre for Guitar and Small Orchestra: II. Españoleta y fanfarria de la caballería de Nápoles (Arranged for Guitar and Bayan)
Joaquín Rodrigo: Fantasia Para un Gentilhombre for Guitar and Small Orchestra: III. Danza de las Hachas (Arranged for Guitar and Bayan)
Joaquín Rodrigo: Concierto de Aranjuez for Guitar and Orchestra:II. Adagio (Arranged for Guitar and Bayan)
Mario Castelnuovo-Tedesco: Guitar Concerto No.1 in D Major, Op 99: II. Andantino, alla romanza (Arranged for Guitar and Bayan)
Mario Castelnuovo-Tedesco: Guitar Concerto No.1 in D Major, Op 99: III. Ritmico e cavalleresco (Arranged for Guitar and Bayan)
Polina Nazaykinskaya: Christmas Whirl

Bonus Track
Overview
The album of the guitar player Vladislav Domogatsky and bayan player Maxim Feodorov "4 Guitar Concertos" presents classical guitar music. For the first time these widely known pieces were reborn as pieces for guitar and bayan.
Mature creativity and bright talent of V. Domogatsky and M. Feodorov led to the creation of a truly unique modern project, renewing ideas about classical musical art. Despite stylistic variety of the programme which contains music of four centuries, the listener's memory will capture extraordinary inner wholeness of the album: languishing vocal cantilene of "Espagnoletta" and psychological drama of Joaquín Rodriges' "Adagio"; fiery dancing virtuosity of Mario Castoenuovo-Tedesco's "Concerto #1" aesthetically matches the atmosphere of playful baroque improvisation in Antonio Vivaldi's lute concerto and fancy Christmassy music of Polina Nazajkinskaya.
Feodorov's arrangements marked with great taste, sense of style and careful attention to expressive capabilities of both instruments create a new genre of bayan chamber ensemble, enriching the general repertoire.
℗ & © 2014 Oclassica SIA.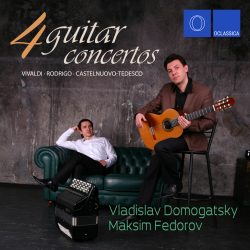 Start listening on