Track List
Rachmaninoff: Vocalise, Op. 34, No. 14 [sc_embed_player fileurl="https://oclassica.com/preview/classical-saxophone-rachmaninoff-franck-borne-matitia/kaW5ohraero3nieNthahR4ei/01 Vocalise Op 34 No 14_preview.mp3″]https
Franck: Sonata for Violin and Piano in A Major: I. Allegretto ben moderato [sc_embed_player fileurl="https://oclassica.com/preview/classical-saxophone-rachmaninoff-franck-borne-matitia/kaW5ohraero3nieNthahR4ei/02 Sonata for Violin and Piano in A Major I Allegretto ben moderato_preview.mp3″]https
Franck: Sonata for Violin and Piano in A Major: II. Allegro [sc_embed_player fileurl="https://oclassica.com/preview/classical-saxophone-rachmaninoff-franck-borne-matitia/kaW5ohraero3nieNthahR4ei/03 Sonata for Violin and Piano in A Major II Allegro_preview.mp3″]https
Franck: Sonata for Violin and Piano in A Major: III. Ben moderato: Recitative-Fantasia [sc_embed_player fileurl="https://oclassica.com/preview/classical-saxophone-rachmaninoff-franck-borne-matitia/kaW5ohraero3nieNthahR4ei/04 Sonata for Violin and Piano in A Major III Ben moderato Recitative-Fantasia_preview.mp3″]https
Franck: Sonata for Violin and Piano in A Major: IV. Allegretto poco mosso [sc_embed_player fileurl="https://oclassica.com/preview/classical-saxophone-rachmaninoff-franck-borne-matitia/kaW5ohraero3nieNthahR4ei/05 Sonata for Violin and Piano in A Major IV Allegretto poco mosso_preview.mp3″]https
Borne: Fantaisie brillante sur 'Carmen' [sc_embed_player fileurl="https://oclassica.com/preview/classical-saxophone-rachmaninoff-franck-borne-matitia/kaW5ohraero3nieNthahR4ei/06 Fantaisie brillante sur Carmen_preview.mp3″]https
Matitia: Devil's Rag [sc_embed_player fileurl="https://oclassica.com/preview/classical-saxophone-rachmaninoff-franck-borne-matitia/kaW5ohraero3nieNthahR4ei/07 Devils Rag_preview.mp3″]https
Overview
Vitaly Vatulya (saxophone) and Maria Nemtsova (piano) duo has been recognized as one of the most interesting ensembles performing in the chamber music world today. The rare combination saxophone – piano was formed in 2006, when the Duo won their first Prize at the prestigious festival in Moscow.
As individual soloists their carriers have seen concerts all over the world. Maria has won many international piano competitions and has played in such halls as Carnegie Hall (New York), Wigmore Hall (London), National Centre of Performing Arts in Beijing, Shanghai Oriental Arts Centre and others. Vitaly is the winner of more than 15 prestigious International Competitions and has played in the Moscow International House of Music and the Great Conservatoire hall, Philharmonic Concert Hall in Vilnius, Bruckner House in Linz and others.
℗ & © 2013 Oclassica SIA.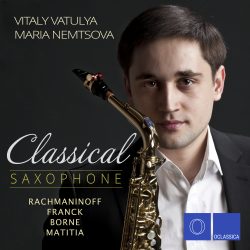 Start listening on