Philip Glass (1937) is an American composer and pianist. He is widely regarded as one of the most influential composers of the late 20th century and associated with minimalism. Glass himself takes distance from the minimalist label and prefers to speak of himself as a composer of "music with repetitive structures"* – music which immerses the listener in "a sort of sonic weather that twists, turns, surrounds, develops"*.
Opening (1981) is the most well-known movement from Glassworks and considered an excellent example of his style. The Piano Etudes (1994) are according to Glass's own program notes written "to explore a variety of tempi, textures, and piano techniques" and they offer unique possibilities to both performer and listener. Metamorphosis Two (1988) is for many known as the musical theme of the film The Hours. The title "Metamorphosis" refers to and was inspired by Franz Kafka's novella The Metamorphosis. Wichita Vortex Sutra (1988) was written to accompany Allen Ginsberg's anti-war poem from 1966, in which he contrasted images of the Kansan landscape with snippets of news about the war. The tension in the piece is built by slightly pushing the tempo and the dynamics forward in each new section of the piece, until reaching the climax and gradually returning to the opening theme. Mad Rush (1979) is based on an earlier organ piece written for the occasion of the Dalai Lama's first public address in North America and can be seen as a work in which time becomes relative. Truman Sleeps (1998) was composed for the film The Truman Show and this album includes an extended version of the piece.
In this album, I continue my exploration of music written by Philip Glass, while looking beyond its categorization as "minimal" and exploring its aesthetic qualities and appeal from a highly personal perspective. I investigate the non-repetitive in repetition, the different ways in which a phrase can be formed in a moment of inspired listening and the timbre and color which I associate with the sound universes of Chopin and Debussy.
Track list
Philip Glass:
Glassworks: Opening
Études for Solo Piano, Book 1: Étude No. 1
Études for Solo Piano, Book 2: Étude No. 11
Études for Solo Piano, Book 1: Étude No. 5
Études for Solo Piano, Book 1: Étude No. 6
Études for Solo Piano, Book 2: Étude No. 15
Metamorphosis: Two
Wichita Vortex Sutra
Mad Rush
Truman Sleeps
℗ & © 2022 Oclassica OÜ.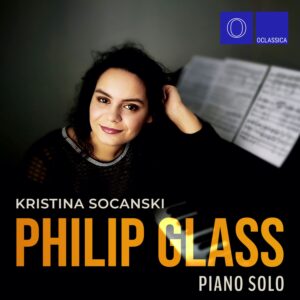 Start listening on